Fakework ladies off to a good start after crossing the starting line...
Our invisible plane shopping cart....It looked great, until I decided to ram it into another cart on the Pulaski Bridge and the nose snapped off!
And this is the cart that I rammed our cart into (no pun intended)!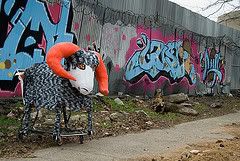 Leaving the first checkpoint....we bribed the judges with jello shots to let us go before our mandatory waiting time was up!
And what would a renegade street event be without Black Label?
This giant penis was spraying runners as they passed over the Pulaski Bridge with only lord knows what.
And they got Wonder Woman BAD!
Why didn't I think of this.....???
(OK, actually, I did, but I still just wanted to wear a Wonder Womasn Costume!!
And I thought we would be cold!
Wonder Kristen and Wonder Lauren leave the second checkpoint after bribing the judges with specially made Wonder Woman star wrist cuffs and a Wonder Woman strip tease....star panties anyone?
Crossing the finish line!
The finish line - look at all those idiots!
The ladies of Fakework won for repeat performance because we represent hardcore every year! (I was hoping we would win for best team in drag.)
Here's what the judges had to say:
CONSISTENTLY BRINGING THEIR A-GAME YEAR AFTER YEAR WITH STYLE AND PANACHE: WONDER WOMEN (FAKEWORKS)
Number Six's Commentary: I have said it before "I love Fakeworks. Every year they bring it and bring it hard. Personally, I think they deserved Best-In-Show in 2005 for their amazing Octopus cart. And last year I think they had a great shot at Best-In-Show for their Barrel of Monkeys... except for the fact that C.O.B.R.A. brought it so hard that year. Their Invisible Jet cart rocked and they had cool bribes (although I still haven't managed to get the zipties off my Wonder Woman wrist guards... I recommend rubber bands). And really strong jello shots. Mostly, they just have fun. Look at all of the pictures of them on Flickr. They are always smiling and laughing. I personally have a collective crush on all of them. Seriously. I was too bashful to ask about their Golden Lariats of Truth. I was scared I might confess my devotion to them all.
You can view the rest of the awards at:
http://www.cartsofbrooklyn.com/awards.shtml
http://www.myspace.com/fakeworkgirls
IDIOTAROD. JANUARY 27th 2007.